MAC Glamour Daze is Here!
Are you ready to get glamour dazed? I sure am! I've been waiting weeks for this massive holiday collection and it's finally here! I was pretty excited when I placed my pre-order last week and got a sneak peek of the collection. It didn't compare to how excited I was today. I finally got to pick up my goodies! Along with my haul, I snapped some more pictures and swatches of the collection. Take a look!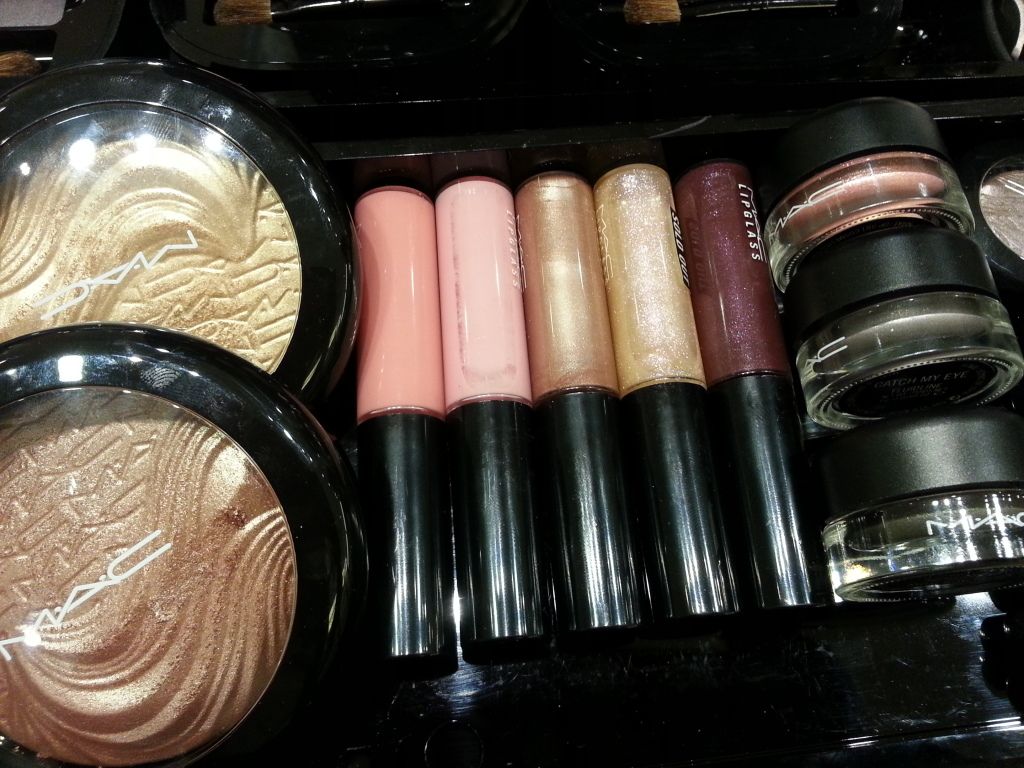 I was a bit pressed for time last week when I went to place my pre-order so I didn't get a chance to swatch the lip glasses but I managed to take some today. These glosses are so pretty! It's killing me to hold off on these and just wait for the upcoming holiday lip glass sets (another sneak peek I have for you!). From right to left:
Pink Fade
Impossibly Sweet
Deliciously Demure
Talk Softly to Me
Flight of Fancy
Also included in this amazing holiday collection are three super shimmery fluidline gel liners including:
Little Black Bow: intense black
Feminine Edge: soft pink
Catch my Eye: soft charcoal gray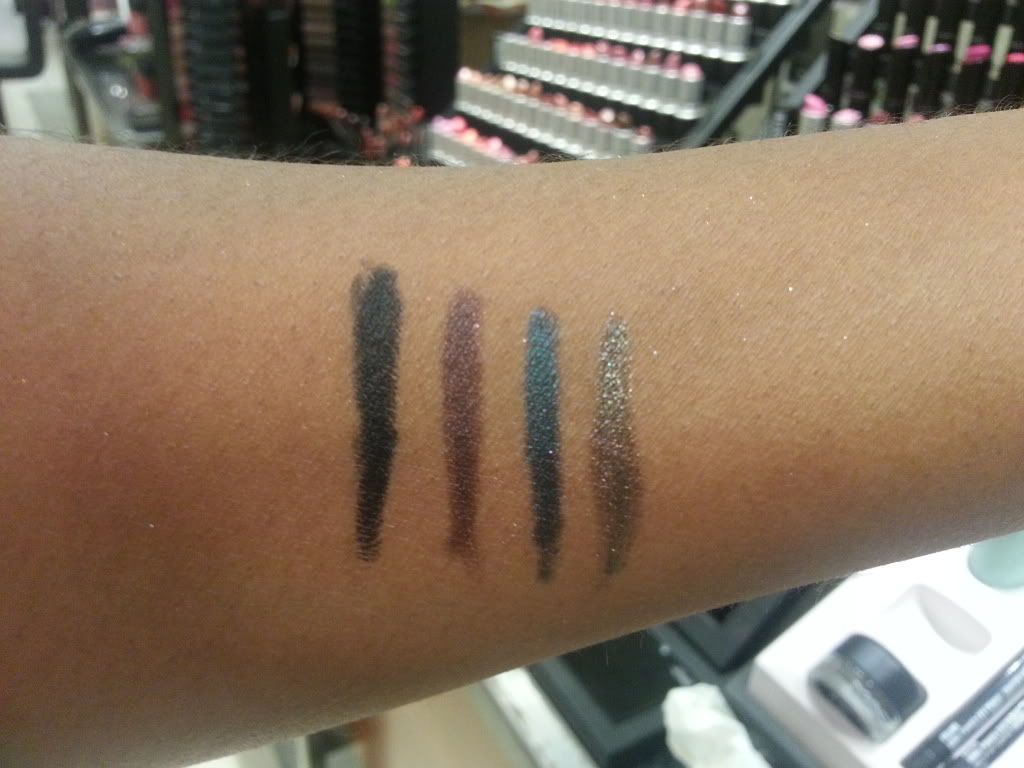 Because there were so many shadows in this collection I didn't have time to swatch them in store but I had swatch the Kohl power eye pencils. I just LOVE the colors they included this season. There are four of them including:
Feline: intense black
Raven: dark burgandy brown
Mystery: blackened teal
Orpheus: soft taupe with gold pearl

Along with Glamour Daze, MAC also released another super plush collection called Primped Out which includes a variety of lip and brush sets. Unfortunately, I didn't spot the lip sets on display at my local MAC counter. But they did have the brush sets though and they're so cute! There are three travel brush sets in this collection for $49.50 including:

Perfectly Plush Brush Kit in Advanced: A coral set including a 167 bronzer brush, 168 large angled contour brush, 239 eye shader brush, 217 blending brush and 212 flat defining brush.
Perfectly Plush Brush Kit in Essential: A lime set including a 190 foundation brush, 129 powder/blush brush, 275 medium angled shading brush, 266 small angled brush and 226 small tapered blending brush.
Perfectly Plush Brush Kit in Mineralize: This set has more of an orange color and has duo fibre bristles. The set includes a 187 duo fibre brush, 130 short duo fibre brush, 286 duo fibre tapered brush and 282 duo fibre shader brush.

You'd think the fun stops here but it doesn't! Stay tuned for my Glamour Daze haul and a sneak peek at MAC's upcoming Guilty Passions collection releasing next month!