Coastal Scents 22 Brush Set Review Part One
I've had this brush set for quite some time now and I think I'm more than ready to give you guys the run down. If I had to sum up this set in just one word it would be: AMAZING! I was on the fence about purchasing this 22 brush set from Coastal Scents for a while because I wasn't sure about the quality of their brushes but I couldn't be happier with it. There's a reason ladies rave about this set so much. It's an investment! Not only do you get 22 lusciously soft brushes but they come packaged in a sturdy faux black leather case that holds more than enough brushes. You can even double the eye brushes in one slot and carry about 10-15 more slim brushes in the case with no extra bulk and no damage. The case itself is surprisingly pretty thin. Even with all 22 brushes inside it's still a great size for travel and doesn't take up a lot of space at all.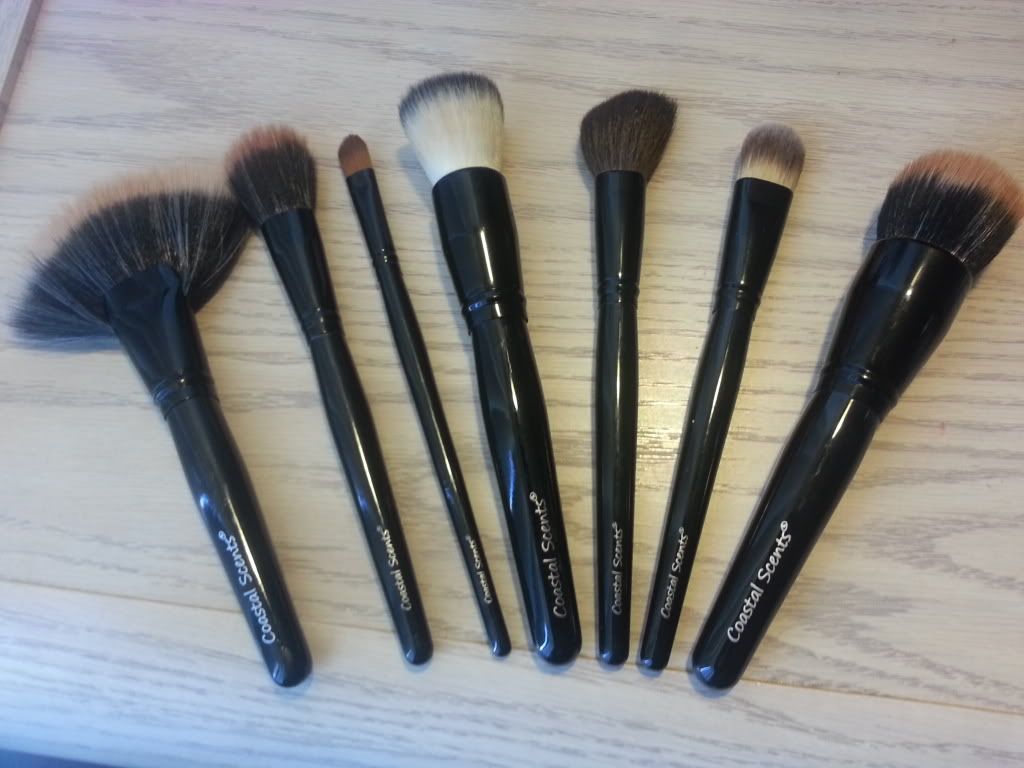 As much as I'd love to review all 22 brushes at once we'd be here all day! So I decided to break up this review in two parts and start off with the face brushes. There are 7 face brushes in this set including:
Large Fan (Synthetic)
Round Powder (Synthetic)
Concealer (Nylon)
Flat Buffer (Synthetic)
Angle (Goat)
Foundation (Fiber)
Powder Buffer (Synthetic)
This is the largest and densest fan brush I've ever seen! It's HUGE! However, even with my small face I didn't find this brush difficult to work with at all. I actually love it and have ordered another large fan brush from Coastal Scents! This brush serves two really great purposes. One, it's fabulous for sweeping away eyeshadow fallout. Perfect for those pesky shimmery shadows and glitters that can leave your face looking like a disco ball. Second, it's also great for lightly dusting on blush, bronzer and highlighter. What makes this brush such a hit for me is that it's incredibly soft and dense enough to take on just about everything. And since the bristles are synthetic it works well with powder, liquids and creams. It's waaaay better than my tiny Elf fan brush and twice as effective! The only drawback I can think of is that it doesn't pick up pigment as well as a natural brush but that makes it perfect for your more pigmented cheek products. Plus it holds less product so it's still a win for me.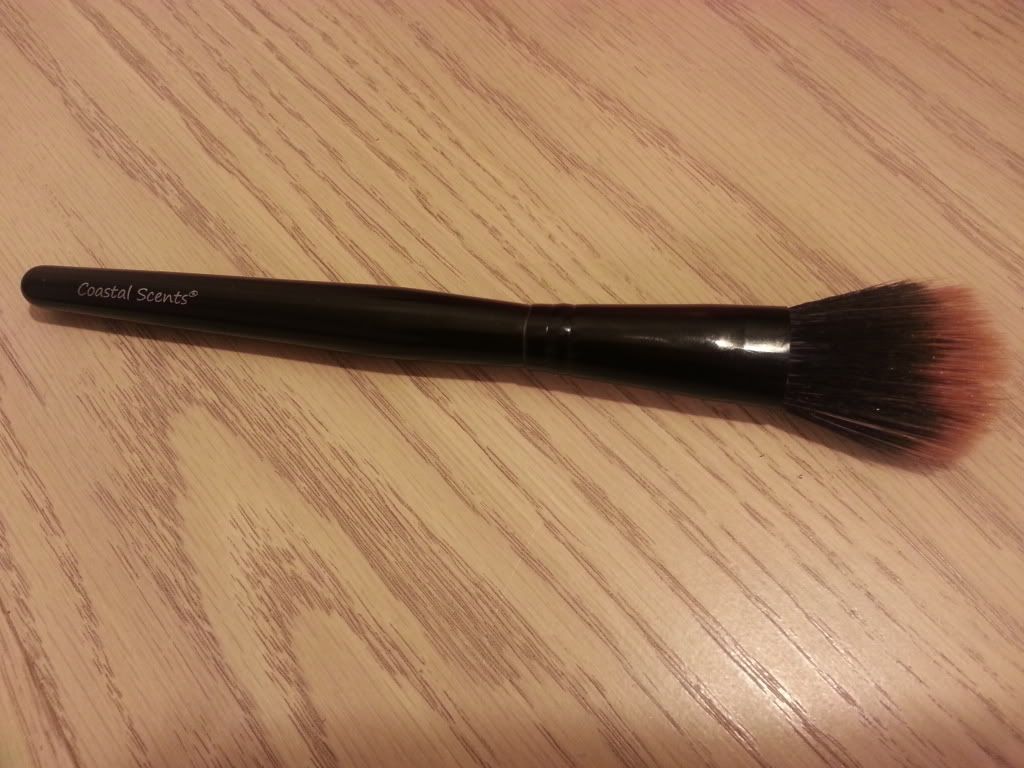 This brush is labeled as a powder brush but since I'm not too big on setting powders I prefer to use it for blush and highlighters. Like the fan brush, it's synthetic so it doesn't pick up too much pigment which makes it an excellent cheek brush. It's fairly small so it fits perfectly on the apples of my cheeks and allows for very precise application. Whenever I'm working with my more pigmented blushes and highlighters this is the brush I find myself frequently reaching for. It's not as dense as it looks on the Coastal Scents site but it's dense enough to get the job done. The small head and soft bristles make blending a breeze! I no longer have to worry about my blush or highlighter spreading while blending.
Although I prefer to use blending brushes for my under eye concealer I LOVE using this brush to conceal my brows. It is absolutely perfect! It's very dense and sturdy. The bristles are soft but still stiff enough to apply my concealer precisely where I want it. It makes application and blending quick and easy. I use this brush everyday!
This flat buffer brush reminds me a lot of the Elf powder brush but it's a bit more dense. Actually, calling it dense is like an understatement. It's crazy packed! And sooo soft! I found all of the brushes in the set to be pretty soft but this one certainly takes the cake. It's like applying your foundation with a baby's bottom. Absolutely the perfect foundation brush hands down! The synthetic bristles work extremely well with liquids and is a dream with creams and powders as well. I just love it!
This is one of the first angled cheek brushes I've tried and it's certainly my favorite. I thought my MAC 168se brush was a dream but this brush knocks it right out of the park! It's not as fluffy but it's much more softer. I've used this brush for just about everything. I love it for blush, highlighting and contouring. It's natural bristles picks up pigment extremely well. Although it's very soft it does have a bit of stiffness to it but I actually like that! It really helps with precise application and blending. Especially for contouring. Besides the concealer brush, this is my favorite brush of the bunch. It's just so darn useful!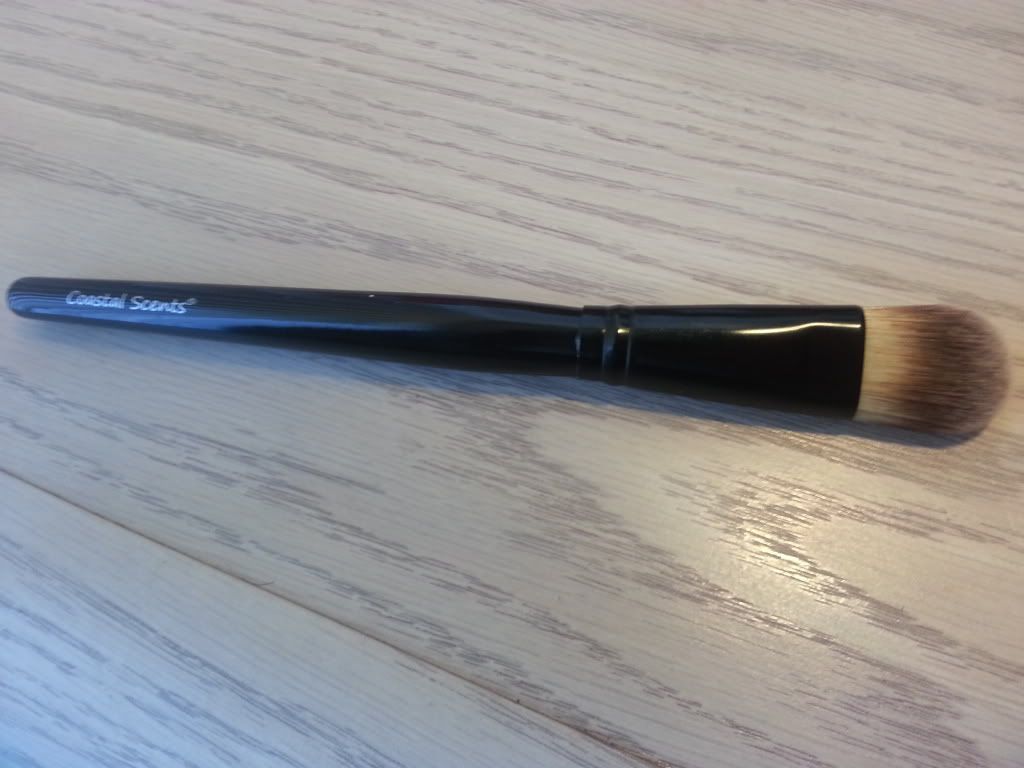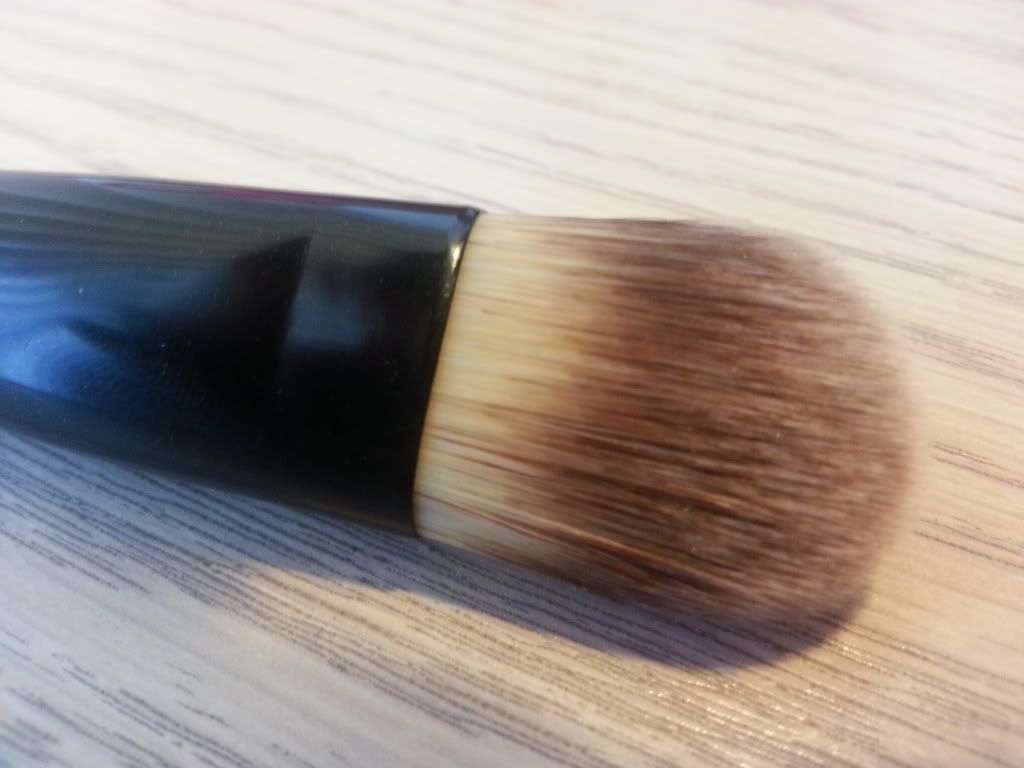 This is probably my least favorite brush in the set. Not because it's lacking in quality but because I just hate this type of foundation brush lol. I don't find them appealing at all! This brush is very soft and pretty dense but I only use it to apply my primer which I don't even use often. The bristles have a bit of stiffness to them so I'm sure it would make a great foundation brush for ladies who like this type of brush. But it's just not my cup of tea.
Last but certainly not least is the dense and really soft powder buffer. It's great for buffing in powder like the name suggests but it's awesome for foundation too! The short round shape gives you ton of control. Plus it blends like a dream! It gives such a beautiful airbrush finish. I totally need another!
As I mentioned earlier, all of these brushes are crazy soft and pretty dense. I wasn't expecting such great quality from such an affordable brush set. Especially since it's so large. I've washed these brushes quite a few times and experienced very little shedding. I have zero problems with these brushes whatsoever! They even keep their shapes after a deep cleansing without using brush guards. This is definitely an awesome set! I got so much more than what I hoped for with this $35 wonder set. I totally think you should head over to Coastal Scents and check them out! And stay tuned for part two!